We only choose the crops that meet the best international standards because we do not compromise on good coffee.
When you taste a bad espresso you automatically blame the barista, and likewise, when you judge quality coffee, you talk only about the man's skill behind the counter.
But we don't forget that good coffee is all thanks to the quality of the beans chosen by the roastery.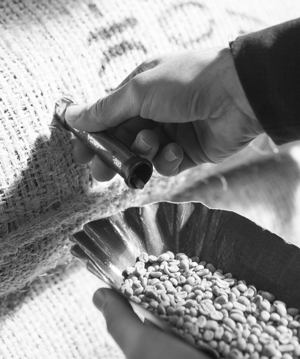 Although it is true that a low-skilled barista can ruin the draw even of very high-quality coffee, it is equally true that it is impossible to extract good espresso using a coffee that does not meet the best standards.
To ensure increasingly fine and delicious coffee for every bar, every office and every family that chooses Passalacqua, we only buy beans of extraordinary quality, guaranteeing a more intense taste experience and unique fragrance.
We select the best crops and carry out analyses on samples of each batch of coffee, observing and classifying every single bean.
From that classification, we know what is and will be the best coffee we buy, then we bring it to our coffee roasting facilities and into your cup. Passalacqua coffee is always one that complies with the highest standards, those that guarantee the lowest possible number of defects.
You just need to look at the jute bags in our stores to find that once again, here in Passalacqua, we do not compromise on producing quality coffee.